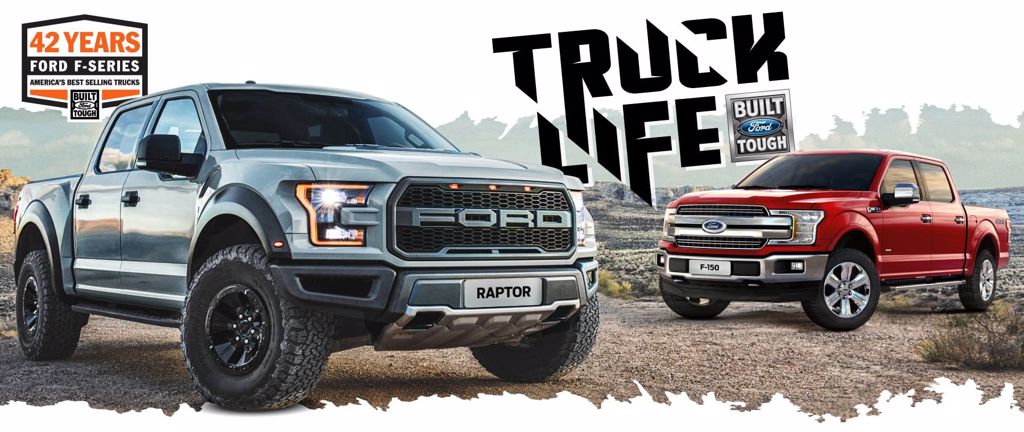 From power and technology to strength and capability, Ford trucks are made with one objective in mind: quality that's built to last, tough enough to serve the Truck Life you lead.
Almana Motors is proud to offer you the legendary lineup of Ford Trucks all backed by Ford 5 year warranty, 5 years roadside assistance (not that you'll need it) and our national network of service centres and spare parts outlets.
Book a test drive today and see for yourself what BUILT FORD TOUGH means.
FORD RAPTOR
Re-engineered from the inside out.

Sore muscles after leg day? Big whoop. A sandstorm raging on the horizon? Bring it on. Because when you drive a Raptor, everything else shrinks and cowers at sight. A beast made in your image. Backed by numbers that push, pull and roar for themselves. DISCOVER RAPTOR
FORD F-150
Outsmart and Conquer

It takes both brains and brawns to be tough. And the F-150's got the best of both. It looks out for you when you drift off course. Responds to your commands the moment you verbalize them. Backs up your gear at the turn of a dial. Placing you right at the heart of Truck Life. Meanwhile, others are wasting time, trying to parallel park somewhere. DISCOVER F-150
FORD RANGER
Tough Done Smarter

Year after year, you learned to thrive in the harshest environments. And with the Ford Ranger in tow, no steep hill can stop you in your tracks. No surface drop-offs can crush your will. Missed the exit? So what. In the middle of nowhere? Make yourself at home. And turn the most remote locations into places to play. This is Truck Life. DISCOVER RANGER
Ford Motor Company's policy is one of continuous product development. Therefore, Ford reserves the right to change the specifications and colors of any models and items shown in this publication at any time. It is important to check with your local Ford Dealer for the latest information on models available for order in your market.